GOOD NEWS FROM SEA ISLE CITY!
Beginning in April 2015, a major beach replenishment project will come to Sea Isle City. This is expected to last through the summer. Sand will be dredged from the ocean floor just off shore and pumped onto the island through a series of pipelines. During this process a maximum section of 1,000 feet of beach will be closed for a three to seven day period starting from Strathmere and moving toward Townsends Inlet. Although this may cause some inconvenience, this pumping of sand onto the beaches is an amazingly fun process to witness for both adults and children. If you are here while this is going on you'll be in for spectacular treat. More importantly, periodic replenishment of our greatest asset is necessary for our economy, defense against storms, and for your vacation enjoyment! While there are too many variables to know exactly where the work will be at any given week during the season, the federal, state, county and local governments in conjunction with the contractor on site will do their best to give us periodic updates as the project progresses.
Why should you choose Farina & Boeshe Real Estate Company for your Sea Isle City real estate sales and rental needs? Simple: We really want your business and will work hard for you to prove ourselves while producing the results you want!
In the news...
David Farina honored by Sea Isle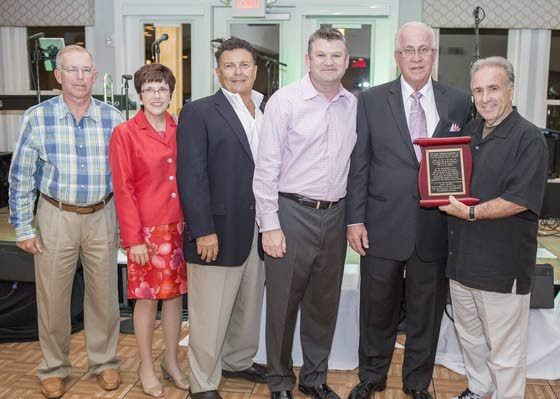 David Farina took his role as the first chairman of Sea Isle City's Tourism Commission to the next level by offering his time and energy to give back to the city that he loves so much.
Members of the Sea Isle City Chamber of Commerce and Revitalization recognized his efforts on behalf of the entire city during the group's annual "Around the World Gala," which took place last month.
Farina received the group's 2014 Founders Award.
The award is presented annually to one person who has served the community for several years. Farina has supported the Sea Isle City Chamber, tourism and Sea Isle City as a whole, according to the chamber's Vice President, Bill Buchanan.
"We choose a recipient that has been involved with organizations that help run the town," he said. "Longevity is an important factor, and David (Farina) was an excellent choice."
Farina, who is a Sea Isle City native, helped launch the Polar Bear Plunge around 20 years ago.
The plunge, held every year, has people jump into the ocean in the middle of February.
He also contributed to the expansion of the Skimmer Weekend Festival that kicks off the summer season, by adding hundreds of vendors and activities for local residents and tourists.
"David goes out of his way by setting aside time to help the community and attract tourists to the area," Barbara Boeshe, his partner and co-owner of Farina-Boeshe Real Estate Company, said.
In addition, Farina has assisted Sea Isle's Tourism Commission with starting up the annual Fall Family Festival, which features live entertainment for families and sand castle competitions.
"I was surprised and overly grateful," Farina said. "Sea Isle has given me everything I have - a loving family, lifelong friendships, personal business success and much more."
Buchanan said Farina has truly given meaning to the saying that "the essence of a city is in its citizens."